Contributors:
---


Poetry and Essays:




Hassanal Abdullah 
Roni Adhikari 
Kayes Ahmed 
Rassel Ahmed 
Chak Amitava 
Pallav Bandyopadhayay 
Stanley H. Barkan 
Nicholas Birns 
Jyotirmoy Datta 
Jyotiprakash Dutta 
Caroline Gill 
Nirmolendu Goon 
Clinton Van Inman 
John McLeod 
Manas Paul 
Matin Raihan 
Hasan Sabbir 
Naznin Seamon 
Amiyakumar Sengupta 




Letters to the Editor:

Maria Bennett 
Laura Boss 
Stephen Cipot 
Joan Digby 
John Digby 
Arthur Dobrin 
Kristine Doll 
Maria Mazziotti Gillan 
Adel Gogy 
Mary Gogy 
Mike Graves 
Leigh Harrison 
Yvette Neisser Moreno 
Marsha Solomon 
Tino Villanueva 
Bill Wolak




Letters to the Editor:

Babette Albin 
Chandan Anwar 
Mansur Aziz 
Laura Boss 
Rumana Gani 
David Gershator 
Caroline Gill 
Isaac Goldemberg
Zahirul Hasan 
Omar Faruque Jibon 
Gholam Moyenuddin 
Hasan Sabbir 
Subir Sarkar 
Tabrish Sarker 
Bikul Hossain Rojario





Cover Art:


Ekok Soubir

---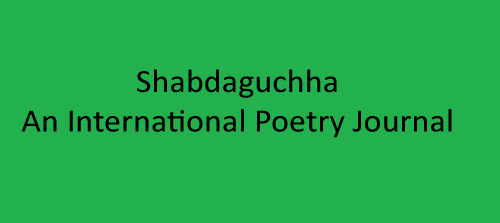 ---
The 15th Anniversary Issue
Cover Art by Ekok Soubir

Editorial/সম্পাদকীয়:

1.
Creative writing is always like an adventure for the ones who create and for the ones who read. And there is no concrete standard for creation. For example, when Petrarch wrote sonnets, initially called the Italian Sonnet and later named as Petrarchan Sonnet, I assume no one ever thought that the pattern would be restructured and new sonnets of different types would be written, like the English or Shakespearan Sonnet. In fact, Shakespeare actually wrote sonnets in a different rhyming style and gave the structure a new dimension. The same thing is true for novels, short stories, songs, and plays. When a new standard has been set by a giant of literature, another giant comes and opens some avenue of light that had never been thought about before. Therefore, the creators find their own adventurous path, through which the reader ventures and startles on each new twist and turn. It is rather a mystery for those who are curious enough to explore.
Shabdaguchha loves to welcome the adventurers and has been doing so for the last 15 years. Not only by printing the originals, but also with the translations, the magazine wants to fulfill the desire of the readers of many languages. Along the way, we received the help of many. Some came to wonder and stayed with us and still cruising through the rough turf. Some came to dance with us for a while and left for other adventures. We thank both groups and welcome the new pirates who will come along with us for future sagas, since the journey of creation will never end.

2.
We are celebrating the 15th anniversary of the magazine in a three-day event from August 23 to August 25 at three different locations: Poets House, Manhattan, Queens Central Library, Jamaica, and Casa Barkan, Long Island. I thank in advance the ones involved in organizing these events, the invited poets and writers for participating and the Committee for celebrating the anniversary. Also, I want to express thanks to our friends, readers, and well wishers from different parts of the world.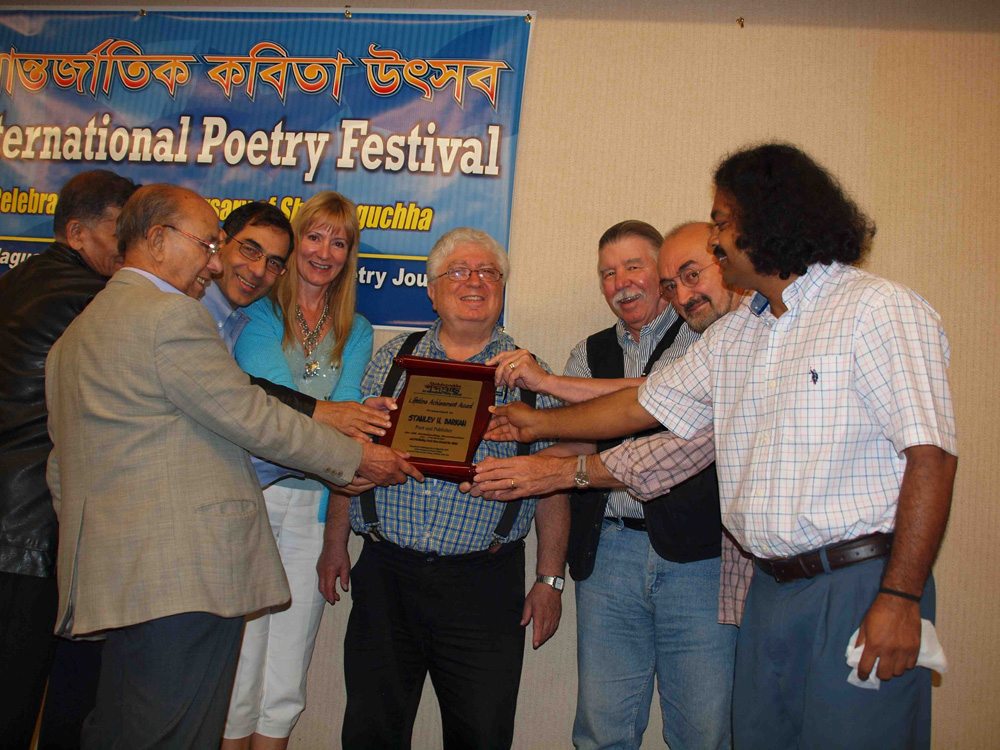 Stanley H. Barkan, Poet and Publisher, Receiving the Shabdaguchha Lifetime Achievement Award


Find us on Facebook



Printed Version
পত্রিকার মুদ্রিত কপি



Contents:
---
With a Little Cash II
This Torn Flag of Mine: Modern Bengali Poetry
An International Celebration of Literary Adventure
Selected Comments
---
মহাকাব্য, সনেট ও হাসানআল
---

পনেরো বছরে 'শব্দগুচ্ছ'

'শব্দগুচ্ছ'র সাথে পনেরো বছর

'শব্দগুচ্ছ': চেতনার আত্মকথন

Poetry in English

Poetry in Bengali

Poetry in Translation

Book Review in Bengali

Letters to the Editor






শব্দগুচ্ছর এই সংখ্যাটির মুদ্রিত সংস্করণ ডাকযোগে পেতে হলে অনুগ্রহপূর্বক নিচে ক্লিক করে ওয়ার্ডার করুন।

To order for the hardcopy of this issue, please click on the following link:


Get Hardcopy